"Entourage" Season 7 Premiere, A Note from Autumn's Dad, and Pictures Galore!
June 21st 2010

The "Entourage" Season 7 premiere was held at Paramount Theater on the Paramount Studios lot on June 16, 2010 in Hollywood, California. Autumn had an amazing time throughout the entire event - from arriving on the red carpet to enjoying the after party and everything in between, she had a blast kicking off the 7th season. And while on the red carpet, she divulged us on what we can expect from her character Lizzie Grant, the savvy young agent:

"Lizzie's focused on getting to top this year, and she wants to get there now," says Autumn. "She's going to get there come hell or high water. As we saw last season, she's not above just about anything that will get her to the top."

Be sure to tune in next Sunday, June 27 at 10:30 pm for the Season 7 premiere on HBO!

Also, Autumn's AWESOME father, Tim Reeser, wrote this about the event and his daughter, Autumn, and you can tell he is definitely a proud dad! From Tim:

"Family, Freaks & Friends,

Set your DVR's for a new season of HBO's Entourage, (beginning June 27th), with six episodes featuring Autumn playing feisty agent, Lizzie Grant, (beginning July 11th). Autumn invited Kim & I to join her and husband Jesse Warren for the Entourage Premiere at Paramount Studios. The studio picked us up for the short drive and we watched Autumn walk on the red carpet— which is actually a photo gauntlet that the stars and guest stars walked along for photos and interviews. (see pics below)

Next we went into the theatre and watched two episodes of the new season (Bob Saget sat next to Jesse). Autumn has a great scene with Jeremy Piven & Jerry Jones, owner of the Dallas Cowboys. Autumn's Manager and Agents said that later episodes get even better.

Afterwards we had great food, champagne and music under the trees and a half moon. What a blast!!

Her new series No Ordinary Family begins shooting in LA in two weeks, and will air Tuesdays at 8 pm this fall on ABC-she plays Katie Andrews—a lab assistant to a fast-moving research scientist.

Also check out www.thrillingadventurehour.com if you want to reserve tickets to see Autumn when she performs with this 'radio troupe'. It's old fashion radio with a sarcastic comedy edge. Oh and here's the new addition to Autumn & Jesse's family—Sadie: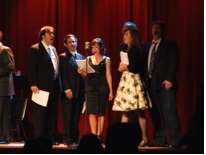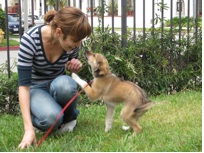 Have a great summer with your entourage of family, freaks & friends!

Tom Reeser"


Autumn's dad is such a sweetheart! Check out these personal photos they took at the event:

(You can also check out more pics of Autumn at the premiere HERE!!)

(Click on each image to see a larger version!):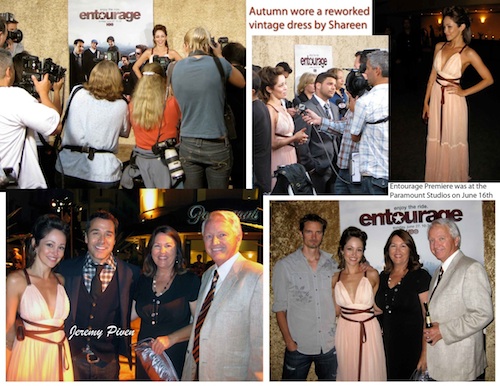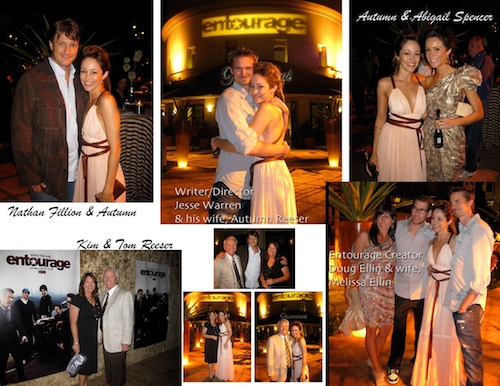 "Entourage" Returns for its Seventh Season June 27 on HBO
June 04th 2010

via press release:
EMMY®-WINNING COMEDY SERIES ENTOURAGE RETURNS FOR ITS SEVENTH SEASON JUNE 27, EXCLUSIVELY ON HBO
After an accident during the filming of his latest action flick, Vince has developed a new lease on life that makes him even more difficult to manage.  Meanwhile, the rest of the guys face the challenge of mapping out their own futures, both personally and professionally.
The Emmy®-winning HBO comedy series ENTOURAGE kicks off its ten-episode seventh season SUNDAY, JUNE 27 (10:30-11:00 p.m. ET/PT), immediately following the season premiere of the comedy series "Hung," with other episodes debuting subsequent Sundays at the same time.
From executive producer and creator Doug Ellin, and executive producers Mark Wahlberg, Stephen Levinson, Rob Weiss, Denis Biggs and Ally Musika, ENTOURAGE draws on the experiences of industry insiders, and stars Adrian Grenier as Vince, who is enjoying life in the limelight as a hot young actor; Kevin Connolly as Eric, Vince's manager; Kevin Dillon as Vince's half-brother Drama, whose own career has been eclipsed by Vince's success; Jerry Ferrara as his pal Turtle; and Golden Globe® and three-time Emmy® winner Jeremy Piven as Ari, now heading an entertainment-industry behemoth.
Also featured on the new episodes of ENTOURAGE are series regulars Perrey Reeves as the long-suffering Mrs. Ari; Rex Lee as Ari's former assistant Lloyd, who is now a full agent; Emmanuelle Chriqui as Sloan, Eric's on-again, off-again girlfriend; and Scott Caan as Scott Lavin, Eric's co-worker and Vince's new partner in crime.
Returning guest stars include Gary Cole as Andrew Klein, Ari's former mentor and current partner; Beverly D'Angelo as Babs, Ari's other partner; and Debi Mazar as Vince's publicist Shauna.  Other guests this season (some portraying themselves) include Nick Cassavetes, Jonathan Keltz, Stan Lee, Maria Menounos, Bob Saget, Jessica Simpson, Aaron Sorkin, John Stamos and Mike Tyson.

Upcoming episodes:
Episode #79:  "Stunted"
Debut:  SUNDAY, JUNE 27 (10:30-11:00 p.m. ET/PT)
Other HBO playdates:  June 27 (12:30 a.m.), 29 (11:00 p.m.) and 30 (2:35 a.m.), and July 1 (10:30 p.m.), 4 (12:30 a.m.), 6 (11:00 p.m.), 7 (2:30 a.m.), 8 (10:30 p.m.), 9 (11:00 p.m.) and 15 (10:00 p.m.)
HBO2 playdates:  June 28 (9:00 p.m.) and July 2 (2:40 a.m.), 3 (noon, 9:30 p.m.), 4 (10:30 p.m.), 5 (9:00 p.m.), 9 (3:15 a.m.) and 10 (3:00 p.m., 9:30 p.m.)
The director of Vince's (Adrian Grenier) latest action film talks his star into doing his own driving stunt, agitating both Eric (Kevin Connolly) and Ari (Jeremy Piven).  Turtle's (Jerry Ferrara) attraction to Alex (Dania Ramirez), an underperforming employee, threatens to damage his fledgling car-service business.  Ari looks to add to his resume as "the biggest agent in the world" by forging an alliance with the NFL.  Worried that his holding deal is about to expire, Drama (Kevin Dillon) pressures Lloyd (Rex Lee), now his agent, to land him a project.
Written by Doug Ellin; directed by Doug Ellin.

Episode #80:  "Buzzed"
Debut: SUNDAY, JULY 11 (10:30-11:00 p.m.)
Other HBO playdates:  July 11 (12:30 a.m.), 13 (11:00 p.m.), 14 (3:35 a.m.), 15 (10:30 p.m.) and 22 (10:00 p.m.)
HBO2 playdates:  July 12 (9:00 p.m.), 16 (2:05 a.m.) and 17 (3:00 p.m., 9:30 p.m.)
In the midst of a public relations crisis over Vince's movie, Ari has a face-to-face with Dallas Cowboys owner Jerry Jones and other top NFL figures, and gets unexpected help from black-sheep agent Lizzie Grant (Autumn Reeser).  At Vince's behest, Eric agrees to help Drama find the perfect script.  Turtle ends up with egg on his face when he accuses Alex of maxing out his corporate credit card.  Sporting a bold new look, Vince takes his risk-taking proclivities to new heights.
Written by Ally Musika; directed by Tucker Gates.

ENTOURAGE was created by Doug Ellin; executive producers, Mark Wahlberg, Doug Ellin, Stephen Levinson, Rob Weiss, Denis Biggs and Ally Musika; producers, Wayne Carmona and Lori Jo Nemhauser.